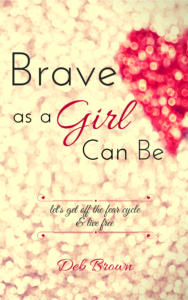 Are you feeling stuck? Is fear your constant companion? Are you weary of the struggle with anxiety, procrastination, insecurity, perfectionism? Here's the truth – we don't have to live like that. Not anymore.
In Brave as a Girl Can Be you'll discover how to:
Identify where you're at in the fear cycle
Recognize your fear triggers
Do it afraid and walk by faith
Find freedom in you next brave step
This book was written for the woman who does not believe it an be any different. It can be different! You can be free from the paralyzing grip of fear. You can stop the cycle. You can walk out your adventure with God in hope and faith and freedom. Come! Let's be brave girls together!
Brave as a Girl Can Be is available on Amazon.
Affiliate Disclosure:
I participate in an affiliate marketing program, where I receive a small commission when products are purchased through links on my blog at no additional cost to you I appreciate it so much when you support me and faithWalk Ministries by clicking on these links to make your purchases.
faithWalk Ministries is a participant in the Amazon Services LLC Associates Program, an affiliate advertising program designed to provide a means for sites to earn advertising fees by advertising and linking to amazon.com.
I never recommend anything unless I love it and think you will too. Thanks so much for supporting my site!