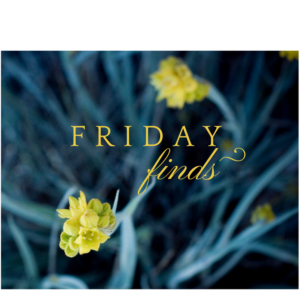 Welcome! Thank you for visiting. Today begins – what I hope to be – a fun series I call Friday Finds. Often when I'm meeting with women, I get asked what I've been reading, seeing, and discovering. I hope to share some of those finds here. Please let me know what you think! Let's get started.
My friend, Jenn Hand, is hosting an online conference next Friday night and Saturday morning. Jenn is author, speaker, and founder of Coming Alive Ministries. It was so fun having her visit Minnesota last fall to be a part of the Living Bravely Conference. The women loved her! Here's Jenn's invitation…
Friends, do you ever get a case of the winter blahs? Feel like your heart needs an awakening? I am so excited to announce that we are doing an online Bloom Conference. You can attend from anywhere – in your pj's at home, at your favorite coffee shop, or with a group of your friends in the living room. If you cannot join us live, you can still register and watch the replay. The cost is only $10.00 for a four-session two-day event. I promise you will come alive. All ticket proceeds benefit Coming Alive Ministries.
I love that if you can't join in live, the replay will be available to you whenever it works for you. I've registered. I hope you'll join me. Click here to register.
Last week I wrote about my word for 2017…believe. You can read about it here. But beyond my words, the comments from dear women who shared their word and why they chose it are genuine and heart-felt. Definitely worth your time.
In that post I shared about my favorite journal that I've been using in my times with God for the past year. It's from Life Lived Beautifully. Check out them out here. My favorite is the "Give Me Jesus" journal. It's a 40-day or 90-day quiet time journal. This journal helps guide my time through the study of Scripture and prayer and allows space to journal my thoughts.
We can choose our word or phrase for 2017, but this week Holley Gerth challenged us to think about the words we won't be choosing. Holley writes, "'Should' in my life is a shamer and a trickster, a liar and taskmaster. I have decided that for this year I will not speak its name. Instead I will choose love. I will choose gratitude. I will choose contentment." I encourage you to visit Holley's blog here.
I'd love to hear about a word(s) you're not choosing. Mine? Not enough. More about that later..