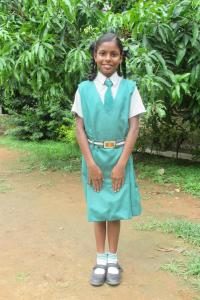 Today is a very special day. Today is sweet Sangeetha's birthday. Isn't she beautiful?
My family and I sponsor a few kiddos, but this girl owns a tender piece of my heart. When faithWalk Ministries began, I asked God to fill my speaking schedule so that I would be able to sponsor children. It's my heart. And a few years ago, it happened. Sangeetha is the first of what I hope to be many children loved on through the ministry work God has called me to do.
Why Sangeetha? We share a birthday. That's really fun. And today she is 13 – a teenager! Sangeetha is from India and she had been waiting over 350 days for a sponsor. She lives in an area where the risk is high for exploitation and abuse. I fell in love with her the moment I saw her.
Sangeetha knows/is learning English. When I compare the first letter with the last one received, it's amazing the progress. She is one smart girl. We share about the everyday moments. We pray for one another. We help each other memorize God's Word. And she calls me Aunty.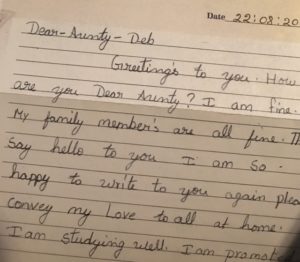 Last Spring we were told by Compassion that the Indian Government had stopped allowing our sponsorship funds into their country. Within the next month Compassion will likely be forced to shut down the sponsorship program in India. They have done all that is humanly possible to work with government officials. We continue to pray for a miracle. Will you please pray with us?
My heart aches for the more than 145,000 children impacted by this decision. And, selfishly, for my sweet Sangeetha, my heart breaks.
Compassion needs my help and your help in releasing children from poverty in Jesus' name. I'm going to be bold here on my birthday and Sangeetha's birthday and ask you to please consider standing with me to be an advocate for children in extreme poverty all over the world. Who can you be an Aunty for?
The process is simple. A visit to the Compassion website walks you through step by step. My friend, Cindy Bultema, is an Ambassador for Compassion, her sponsorship page is here. For $38 a month, you can change a child's life forever – and your own.
If you choose to sponsor a child, would you please let me know? I would love to send you a gift as my way of saying thank you. I'm looking forward to standing together to love and care for these amazing kids.
Happy Birthday my dear sweet Sangeetha! Your Aunty loves you so very much!!