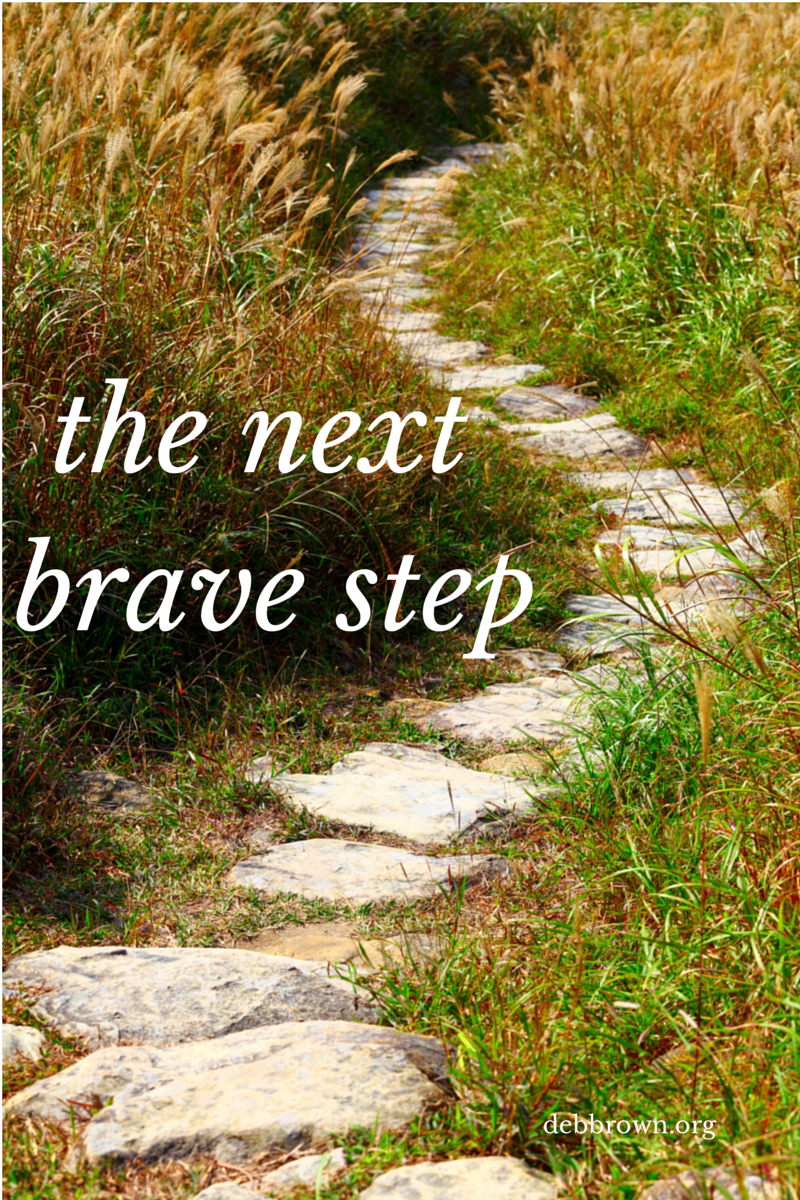 Wow! It's been a while since I've written in this place. It would take a novel or two to fill you in on the happenings of my life over the last several months. Challenging, long, difficult are a few words to describe the season we're walking through and longing to find our way out of. One in which for a while I thought was bringing me to the end of ministry. And to be honest, I was weary and ready to lay it down.
But ever so slowly, we've begun to catch a glimmer, a glimmer of hope.
 May the God of hope fill you with all joy and peace in believing so that by the power of the Holy Spirit you may abound in hope.  Romans 15:13
As much as we desire to be lifted out of a painful season right now, sometimes it's hard to know where to begin. The feelings of overwhelm can take our breath away. So what if…what if instead of looking forward to the end of the challenge and being utterly convinced we'll never make it, what if we focused on just one thing. Taking the next brave step.
Just one. Plant your foot, look back if you need to, but choose to shift your gaze in the midst of the chaos. That next brave step has the potential to take us farther than we could ever imagine.
Here's what I'm learning when taking the next brave step…
 We're Not Alone. It may feel like we're alone. It may be the blackest of dark. But the truth is we are never alone.
"Do not be afraid or discouraged, for the Lord will personally go ahead of you. He will be with you; he will neither fail you nor abandon you." Deut 31:8  
And my life verse…
The Lord God is my Strength, my personal bravery, and my invincible army; He makes my feet like hinds' feet and will make me to walk [not to stand still in terror, but to walk]and make [spiritual] progress upon my high places [of trouble, suffering, or responsibility]! Hab 3:19
We are NEVER alone!
We need to Do it Afraid. If we wait for the feeling of fear to go away, we're going to die waiting. Don't wait until you don't feel afraid. That's never going to happen. Never! I promise. Do it afraid. Be brave afraid. Because here's the secret…once you take that first step, the next step will come a little easier and the one after that and the one after that.
We need a tribe. We can't do life alone. We need to surround ourselves with community who will walk alongside us, support us, and be our biggest cheerleaders. Early on in ministry I knew I needed a group of women to pray for me when I'm speaking, when I'm writing, when I'm traveling, when I'm scheduling. They are a vital part of faithWalk Ministries. I never stand behind a podium or write a word without their covering. I need these women in my life because they continually live out bravery. You'll be reading about them very soon.
Over the next few weeks the focus in this place will be a new series I'm calling When Brave Is… I hope you'll join me. I'm excited to keep working on our next brave steps.
Before you go, I'd love to hear about your next brave step. Remember, you're not alone.